Nissan Financing Options at M'Lady Nissan
Not sure whether leasing or financing is right for you? Discover all your options with help from the finance experts at M'Lady Nissan today! Our Nissan financing experts will work with you to review your individual lifestyle and budget demands to help you secure the auto loan or lease that's best suited to you.
M'Lady Car Buying Options
For some, ownership makes good sense; for others, leasing is a better option. At M'Lady Nissan, you can explore what's available and what might work better for you, with the help of the experts in our financing team. We'll work with you to look at your lifestyle, your needs and your budget to zero in on the loan or lease program that's the best fit.
One thing you can count on: when you finance through M'Lady Nissan, you'll be getting the best rates, the best terms and the best price anywhere in the Crystal Lake, IL area. Come on down and let's see what we can do to get you into your dream Nissan today.
Buying a New or Pre-Owned Nissan
When you decide to buy a new or used Nissan, you're able to take advantage of all the benefits and flexibility of ownership, including factory warranty, service agreements, dealership maintenance and the potential to refinance or even sell your Nissan without any penalty. You can put all the miles you want on your car, and you'll have the pride of ownership that goes along with it. Our friendly finance team will work with you to get the best loan for you, your budget and your vehicle of choice, at the most competitive rate.
Why own? Well, here are some good reasons:
No need to stress over your Nissan's condition
No limits on mileage
Full ownership and clear title at the end of the loan
Factory warranty
Leasing at M'Lady Nissan
Ownership isn't the right course for everyone. Leasing a Nissan has its own set of advantages, freeing you from a long-term commitment and letting you check out what a new Nissan has to offer every two or three years. Leasing means that you're only paying for the depreciating value of the lease, and you can get into a new ride every few years with zero strings attached. You don't have to worry about reselling or trading in an aging vehicle, and you're free from worries about repair bills and maintenance.
Enjoy all the perks of leasing a Nissan, including:
Lower down payment
Lower monthly payments
Return for a new Nissan every two or three years
Factory warranty coverage for major repairs
Why finance at M'Lady Nissan?
At M'Lady Nissan, we take the headaches out of financing and leasing. You can apply for Nissan financing on the spot to find out what sort of loan or lease you might be eligible for, and while you're here you can take a good look at all the Nissan specials and figure out which model you'd like to drive home!
Through Nissan's SignaturePURCHASE ® program, you can find the best interest rates you're eligible for and get a quick answer as Nissan helps you make your car-buying aspirations a reality. SignaturePURCHASE is applicable for new and pre-owned Nissans both, with notes that range from 12 to 72 months.
From there, Nissan Motor Acceptance Company makes it easy to stay current on lease or note payments, with fast and convenient payment options. You can choose from programs like automatic recurring payments, simple one-time online payments, payments by mail or money order or services like BillMatrix ® or MoneyGram. Whatever works best for you – we can make it happen together!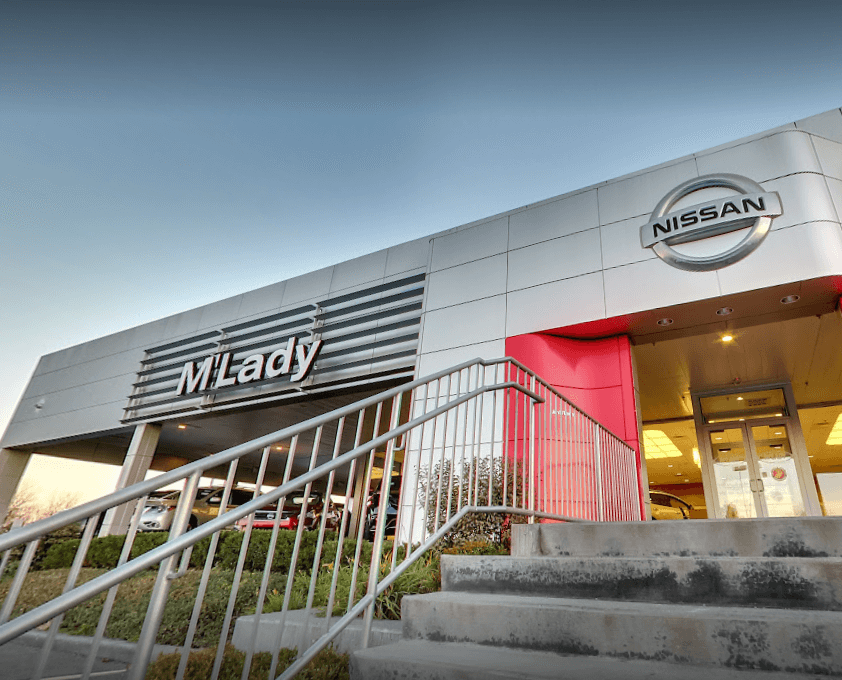 Financing FAQs
It's not hard – you can go to Nissan Portal and enter your email address, Social Security number and the account number that's in your monthly statement or welcome letter. If you can't find the account number, you can use "Account Number Lookup" on your final page of registration.
NMAC refers to Nissan's captive financing company, Nissan Motor Acceptance Corporation.
NMAC does not charge a fee for using Recurring Payments. Your financial institution may assess a fee in connection with processing online transactions on your bank accounts.
Scheduled – You have set up Recurring Payments to draft your monthly amount. When you are in scheduled status you are able to edit or cancel this payment option.
In most cases, Recurring Payments will no longer be debited from your bank account once you have paid off your account. If a Recurring Payment is processed after the payoff date, you may be entitled to a refund to the extent your account is overpaid.
Yes, each party can set up their own Recurring Payments. You will also be able to view limited information about your cosigner's Recurring Payment schedule but cannot modify or cancel it.
You can make a payment by phone by using BillMatrix, a third-party payment service. You may pay using an ATM/debit card, Visa/MasterCard, or an electronic check/ACH and will be charged a convenience fee of $5.95.
Every vehicle is inspected by Alliance Inspection Management (AIM), a third-party certified inspection company.
At the end of your lease you have three options: Return, Purchase, or Replace the vehicle.
Yes, you can pay your liability balance online and free of charge.
Buying a new Nissan has many advantages including:
No limit on mileage
Full ownership of your Nissan
Factory warranty to cover major repairs
Leasing a new Nissan car, truck, or SUV comes with many benefits including:
Lower down payment
Lower monthly payments
Return for a new Nissan every two to three years
Factory warranty covers major repairs