We Speak Five Different Languages at M'Lady Nissan
At M'Lady Nissan, we go above and beyond to ensure outstanding service to our customers. Not only do we provide open and honest communication in English, but we will help you in a number of other languages as well. We pride ourselves on our talented and diverse staff that delivers a relaxing vehicle shopping experience, completely hassle-free. Our bilingual staff members can tell you all the ins and outs about our quality vehicles in five different languages in addition to English. You'll feel completely comfortable in the capable hands of M'Lady Nissan
---
At M'Lady Nissan, we ensure that your voice is heard. Our dealership showcases a talented, multilingual sales team to help every Chicagoland customer find the perfect vehicle. Our sales staff has years of experience matching quality cars with satisfied customers. Simply tell us a little bit about your budget, driving habits, and preferences, and we'll take care of the rest. Enjoy a test drive in some of the most popular Nissan models around.
Our friendly staff members can assist you in the following languages:
Arabic
Filipino: Randy Del Rosario
Polish: Kamil Zlahoda
Hindi: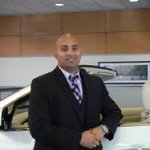 Mir Ali
Spanish:
Hugo Duran
Severo Gonzaga
Eduardo Montalvo
Nathan Rodriguez
CONTACT US TODAY
M'Lady Nissan offers a welcoming environment for stress-free auto shopping. Not only will we find you the car of your dreams, but you'll feel comfortable every step of the way. Find us in Crystal Lake at 5656 Northwest Highway. If you are interested in checking out inventory and services, please feel free to contact us online. Please let us know your language of preference and we'll get back to you as soon as possible. We look forward to working with you soon.